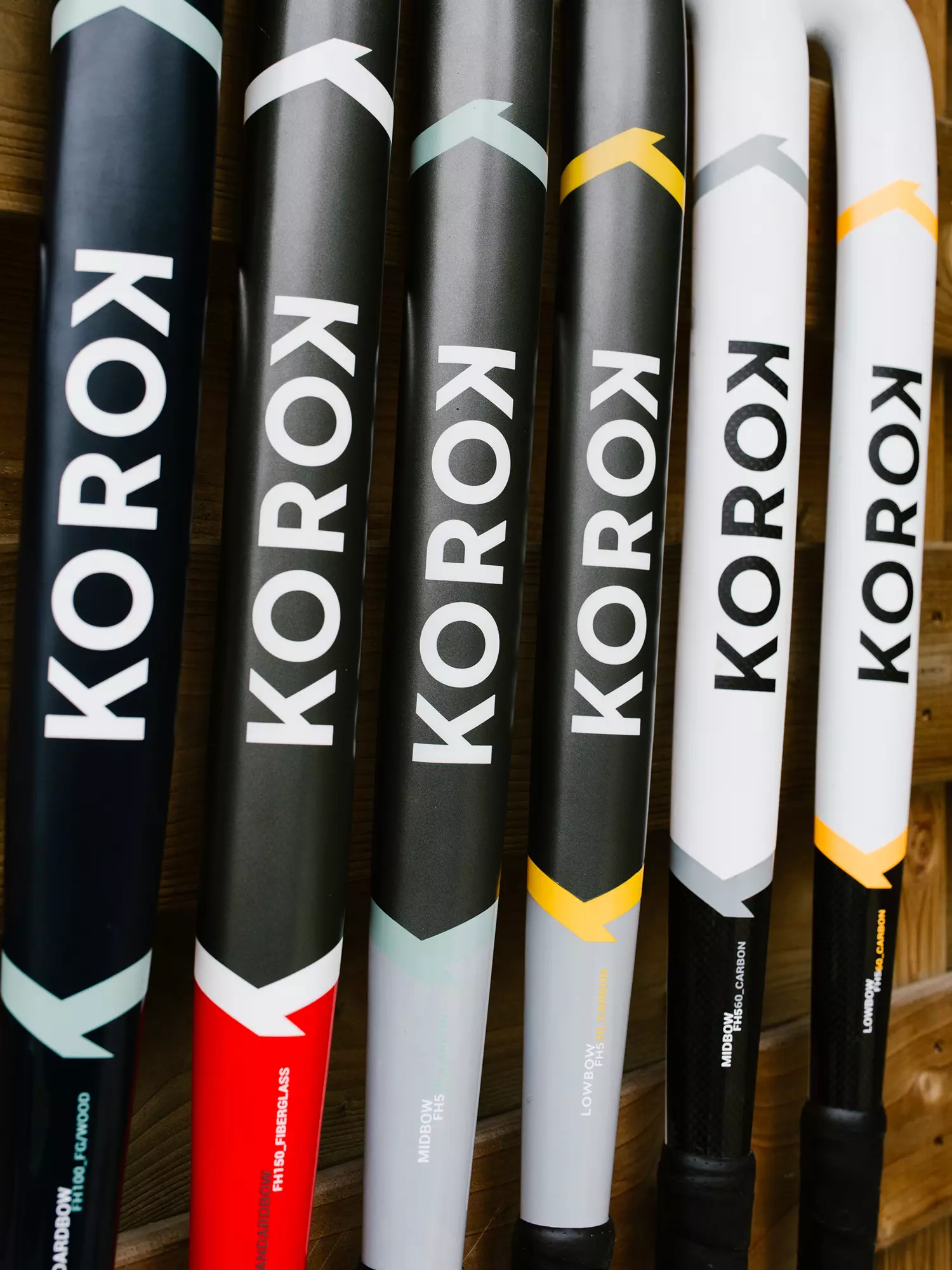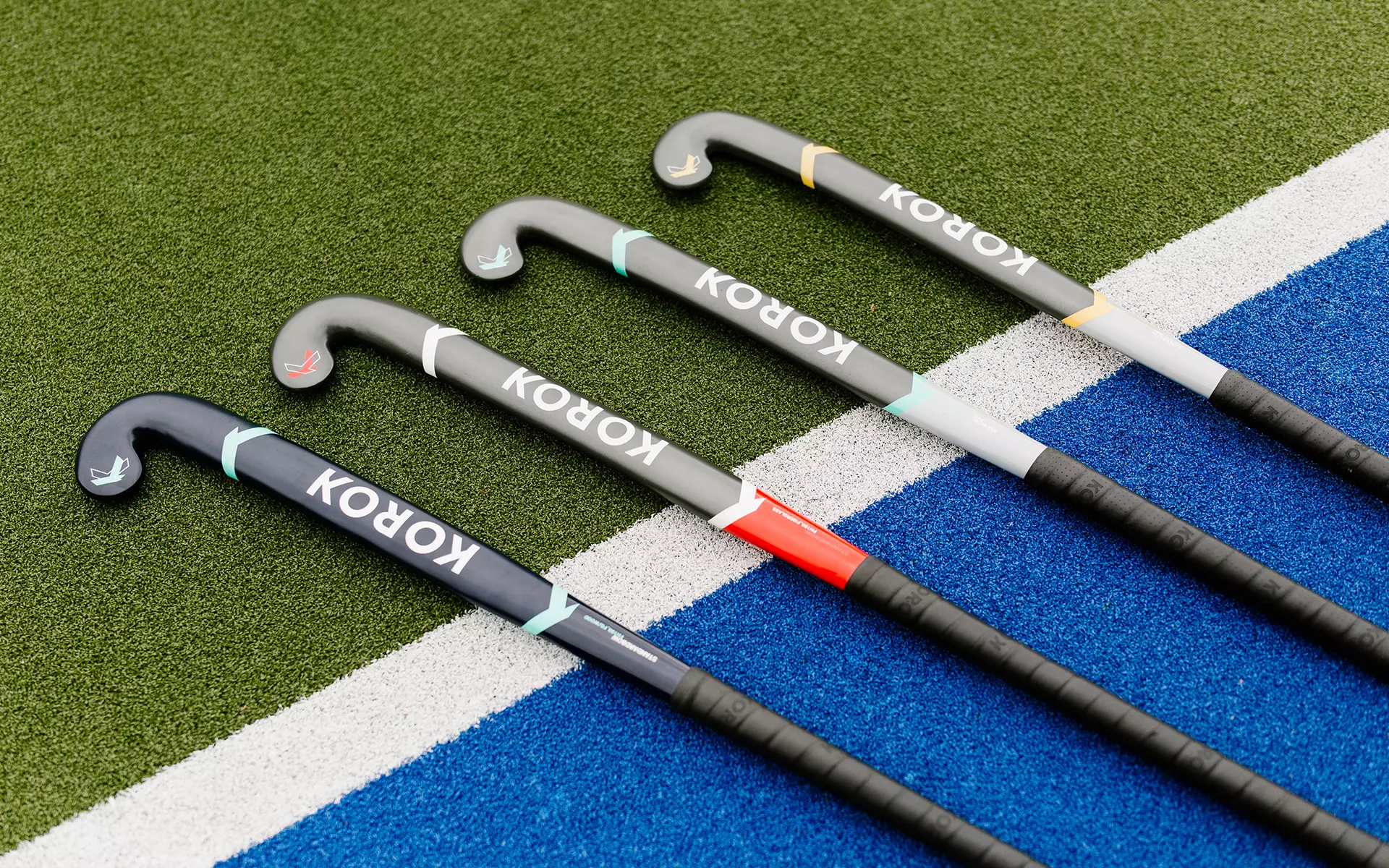 THE STICK
Formerly made of wood (ash tree, mulberry tree), today most of the sticks are made of composite matérials (glass fiber, carbonfibre and aramid fibre)
The hockey stick distinctive feature
Curved in the lower part, it has a flat side (the one which hits the ball) and a round part, which may never hit the ball. Its weight is between 500 and 600 grams. The weight is balanced differently according to each style of game. You need a great handling ability? Choose a light stick and a high balance point. You are looking for power? Choose a heavy stick and a low balance point.
The stick "expert" KOROK: X-low Bow 95% Carbon
With 95% carbon and 5% aramid fiber, this stick (around 550g) is used by the great Belgian players, technical partners of the brand.
It has been created by a team of product developers, with high level field hockey players, passionate people, players from the clubs which are our partners, our community of players, R&D Decathlon specialists in composite materials and people who represent two of the main field hockey sticks factories.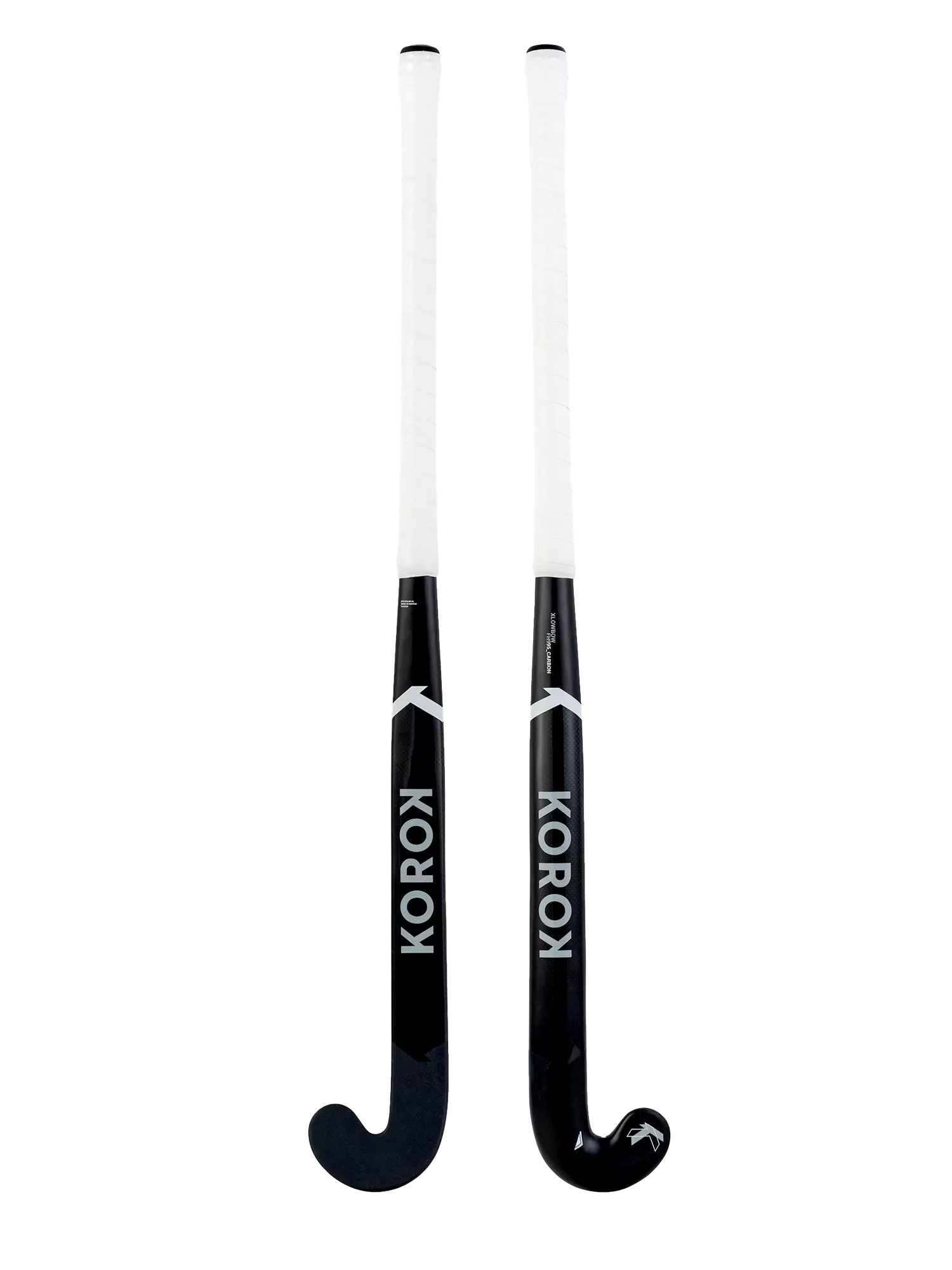 CONTROL
Extra low bow for a 3D game, more fun, with better technical qualities like agility and ball control.
BALL CONTROL
Great precision thanks to its materials.
LOWERING THE VIBRATIONS
The hardness of the carbon is smoothened by the PE-EVA foam under the grip.
Ergonomic gripping
Quilted grip in PU, smooth to touch, diameter of the handle 30mm.
Durability
The union of 95% carbon and 5% aramid fiber for a better resistance.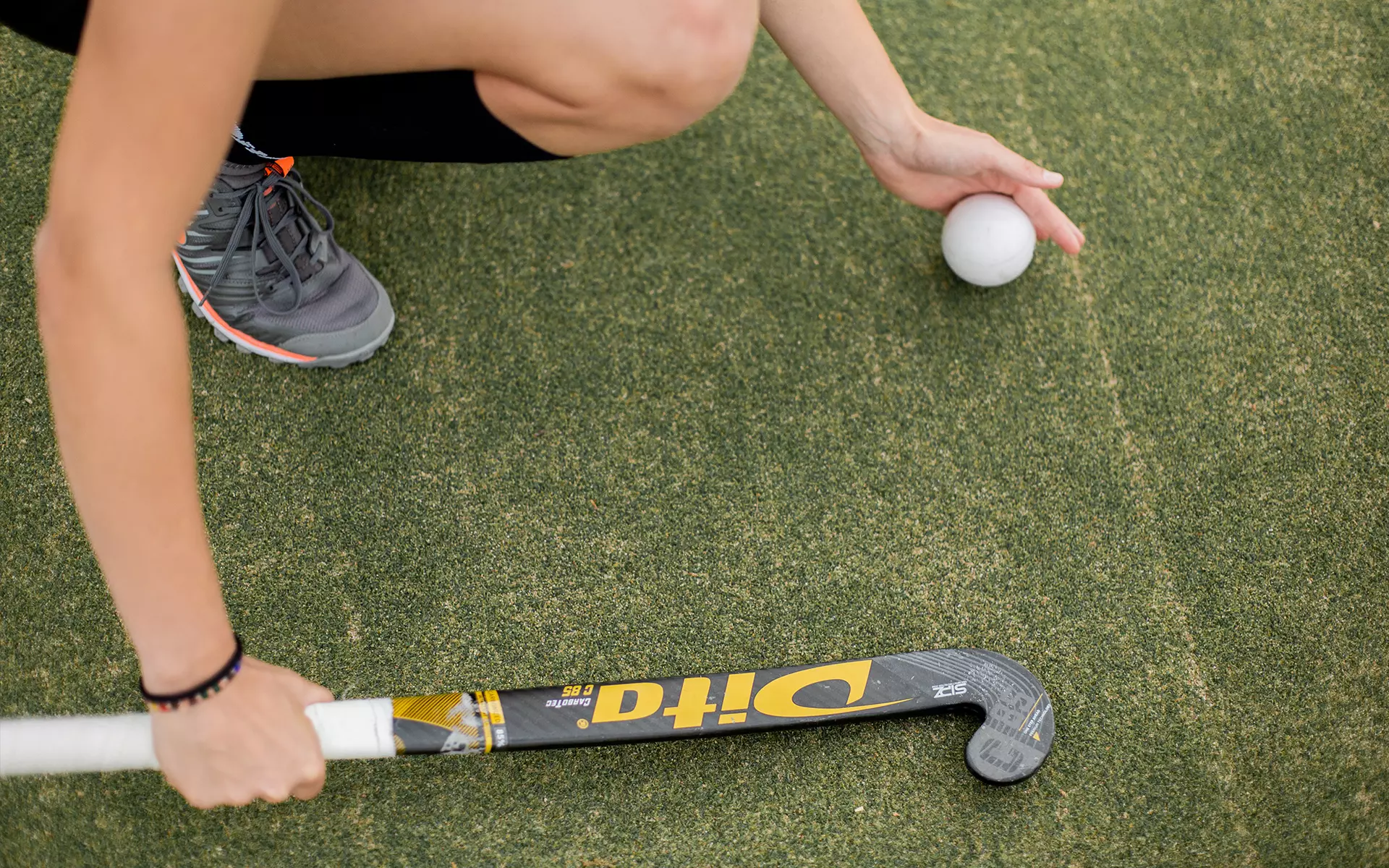 THE BALL
Formerly made of leather, when people played with a wooden stick on natural grass, the ball is made nowadays with plastic materials, more resistant and efficient.
Portrait of a field hockey ball
A little bit bigger than a tennis ball and hard as a golf ball, the ball is sometimes hollow, sometimes solid plastic and sometimes with cork in the middle. It is dimpled for a better lift on synthetic fields and great control on wet fields.
The weight is between 156 and 163 grams, the diameter between 71,3 and 74,8 mm (FIH norms), its speed can be… 120-130 km/h!
The Korok ball
As with other products, it is the result of the work of a multidisciplinary team: passionate field hockey players from our sports community and partnership with clubs, and Decathlon R&D and industrial plastic process specialists.
With 160 grams and a 74,6 millimeters diameter, the Korok ball is dimpled, and suitable for wet fields.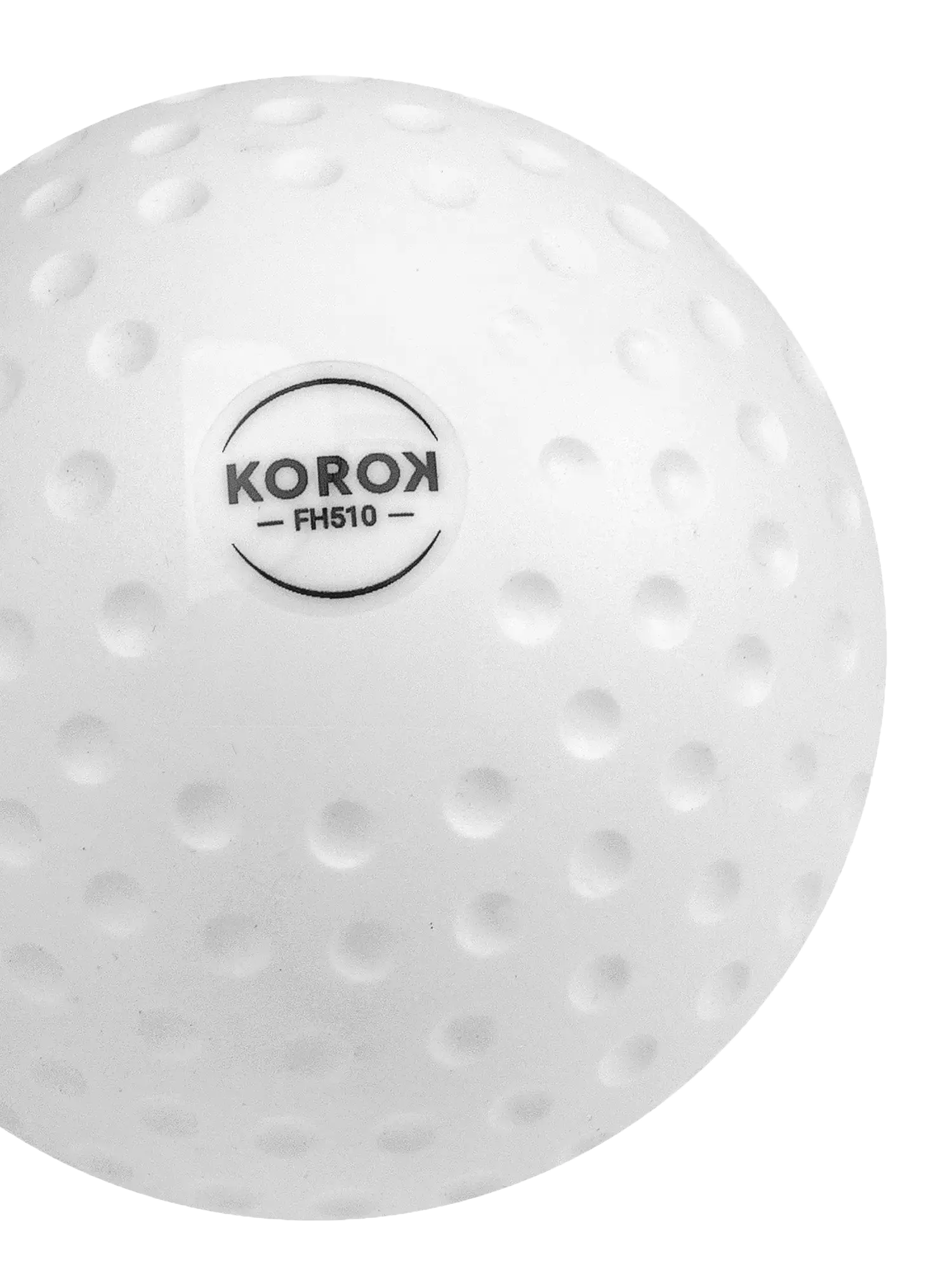 BALL CONTROL
Hollow PVC ball.
Speed
Dimpled surface to control the course of the ball on wet fields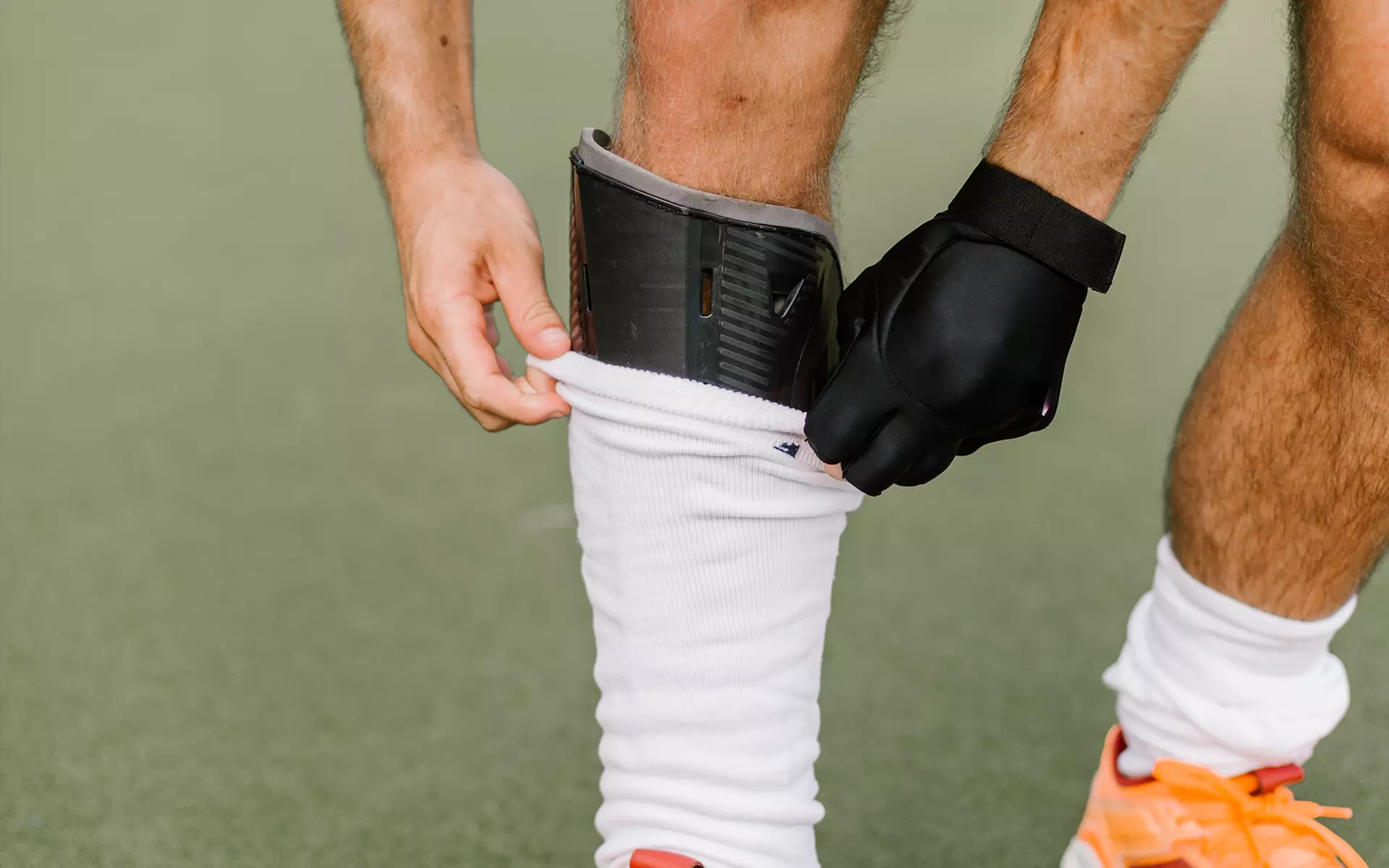 THE PROTECTIVE EQUIPMENT
Mouthguard, shin pads, glove: a great security during a game or practising, to enjoy playing. Protecting yourself is essential as balls can get to 120km/h.
the shin pads
The shin pads are made with a moulded plastic patch, with a thick foam part to stop impacts and shocks. It covers the malleolus, the patella and each side of the legs. It is very different from soccer shin pads, those are not at all suitable to play field hockey.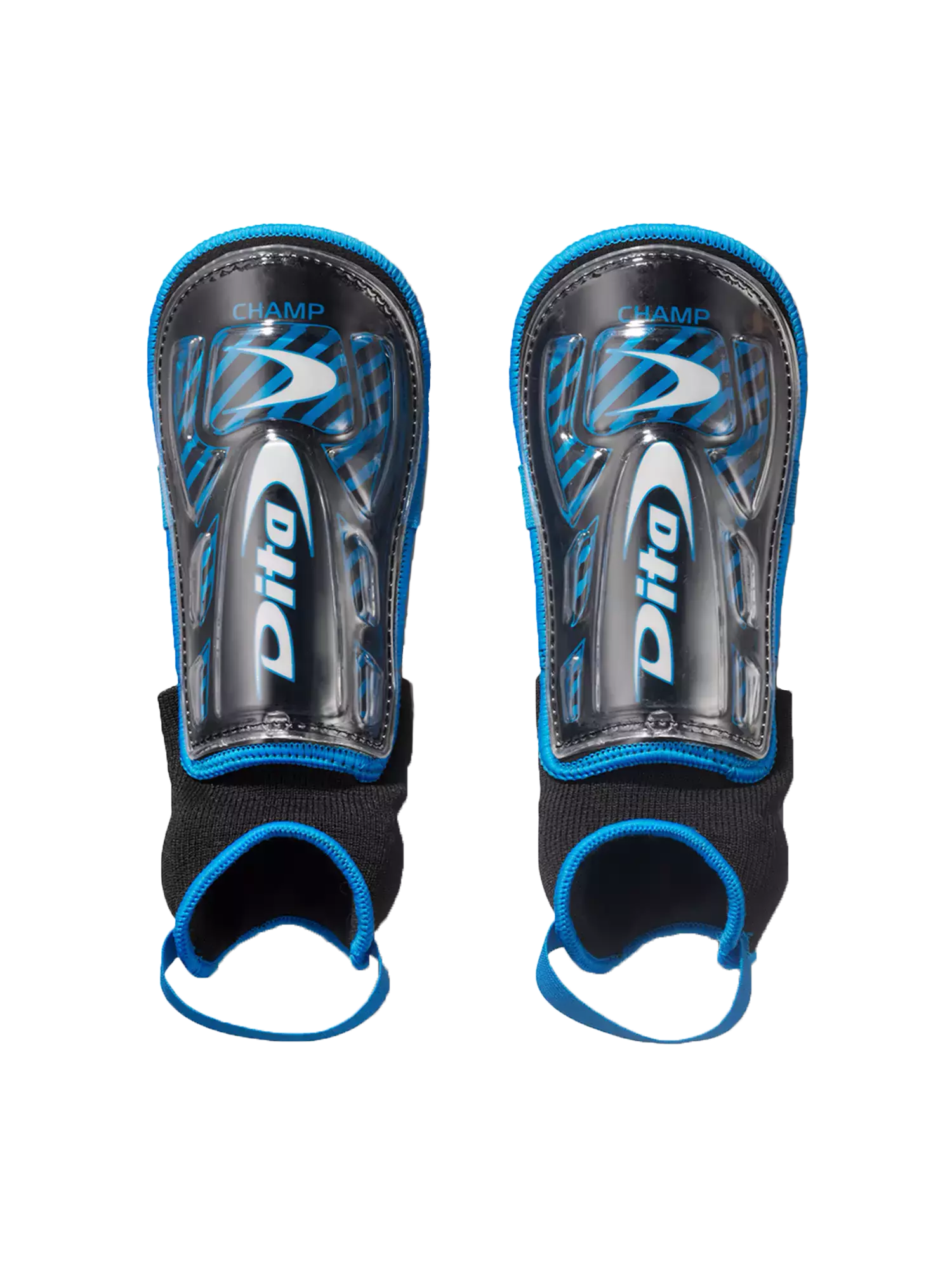 Protective equipment
K-resin plastic shell and EVA foam on the front parts. Malleolus shells.
Equipment
Front leg shells and malleolus shells.
Wide open
Rubber band with a velcro grip, non asymmetric.
the mouthguard
The mouthguard protects teeth and gums even when the mouth is open. It has a specific and essential area to breathe properly when the mouth is closed or open. Our models can be used for people with dental braces.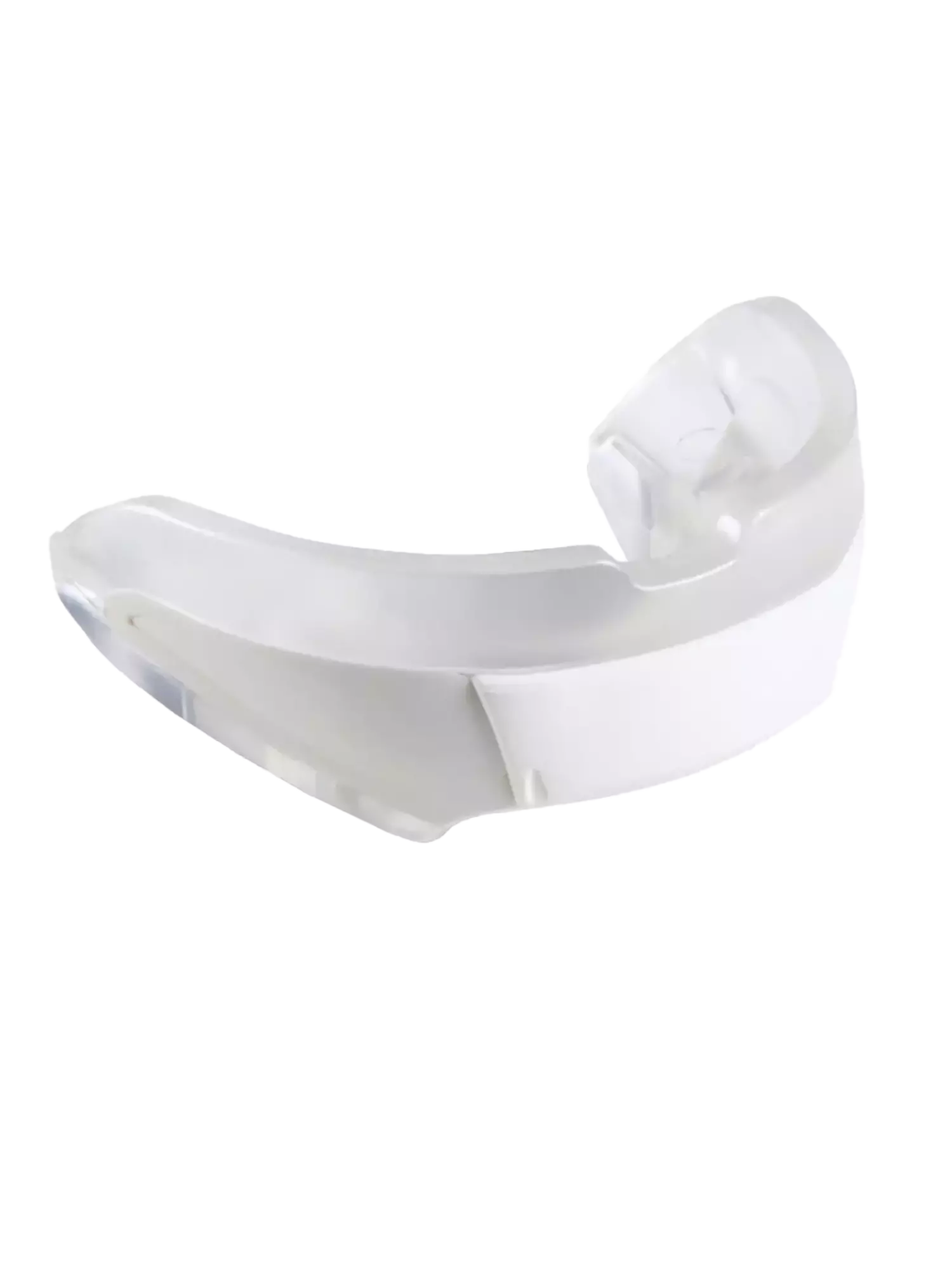 Optimal cover
Optimal teeth and gum cover.
Adjustable to any body type
Thermoformable materials. Preshaped lower part.
Ease to breath
Breathable space 2 mm under incisors.
the glove
The glove has to protect each hand and all fingers from the impacts and shocks of the ball and the sticks, players mostly wear a glove on the left hand.
The left hand is very much at risk in a game through block tackling, that is why its protection is a priority. There are also gloves for the right hand, for players who need full protection.
selection
Korok/Dita
DITA Glove
Dita Glove is a great shield for the phalanges and the back of your hand. Double foam coat and moulded polypropylene patches. Large opening on the palm area for an optimal grip of the stick. Neoprene wrist with velcro for a strong support and comfort.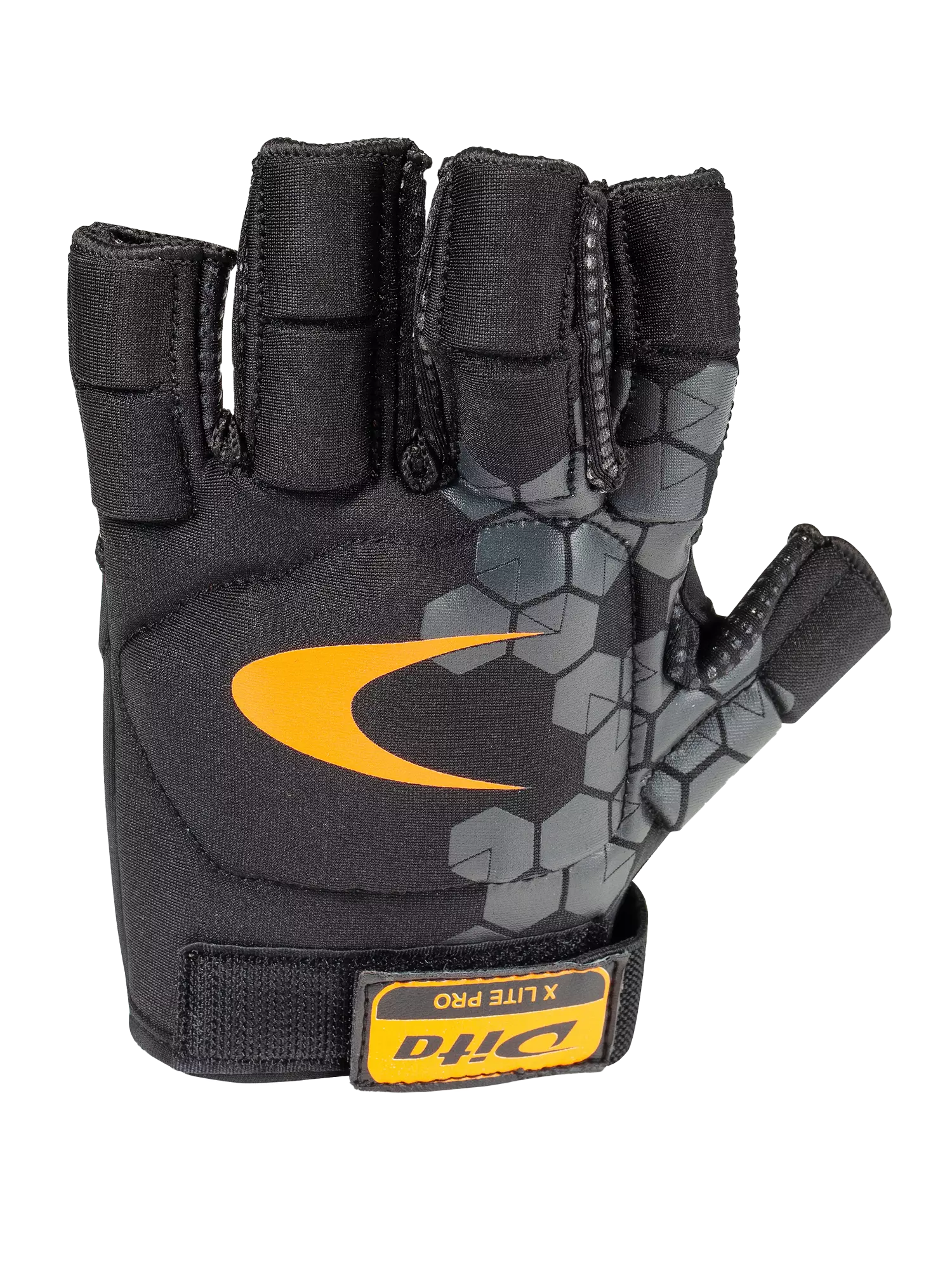 Grip
Open area on the palm, material with a great grip inside the fingers.
Lightness
Light elements.
Breathable
Synthetic materials.