Zohra Ayachi
Women's Football
Leader at Kipsta
" I just want to give
female players products
that are right for them. "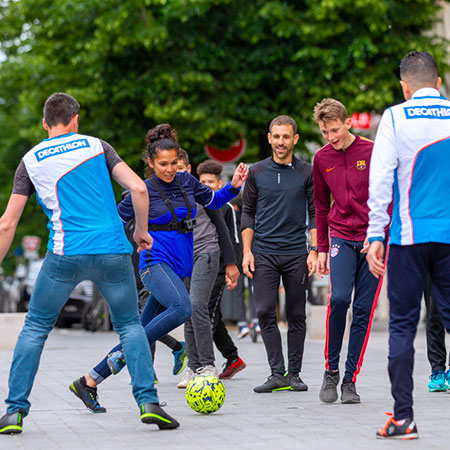 She laughs as she puts herself through her paces; her passion is clearly pushing her as she darts around. The ball fairly sticks to the pair of Kipsta Agility boots on Zohra Ayachi's feet. Passers-by on the rue de la République, a main artery through the heart of Lyon, are captivated by her deft movements: suddenly left, then right; turning on a sixpence, now accelerating. Lyon is the venue for the semi-finals and finals of the football World Cup - the women's version.

In this improvised street match, involving her partner, Jessica Houara-d'Hommeaux, former PSG and OL international, as well as Sylvain and Marie and ten other colleagues from Decathlon Lyon stores, this somewhat unusual team is pitted against a group of young footballers blown away by these two talented ex-pros. The Decathlon and Kipsta Team have issued a challenge to young passers-by, who are lapping up this chance to prove themselves. Libres de Jouer (Free To Play) is the One Blue Team slogan, fittingly represented by Zohra.
At 30 years of age, the former attacking midfielder from Paris SG and Montpellier is product manager at Kipsta, Decathlon's flagship football brand. She designs and develops clothing and footwear ranges that are proving increasingly popular among women, delighted to finally be catered for, with items specially tailored to their feminine body shapes, whether it's boots, kits or gloves.

Zohra has been in the sport since she was very young, spending ten years in top flight football, playing for Montpellier, PSG and the France national team. "It was an era when parents couldn't really believe that girls could make a living out of football. I had to really plead with them to be allowed to play the game," she says. With a Masters in marketing and another in law, economics and management, she has been careful to make provision for her second career. "I sent out my CV and rolled up my sleeves."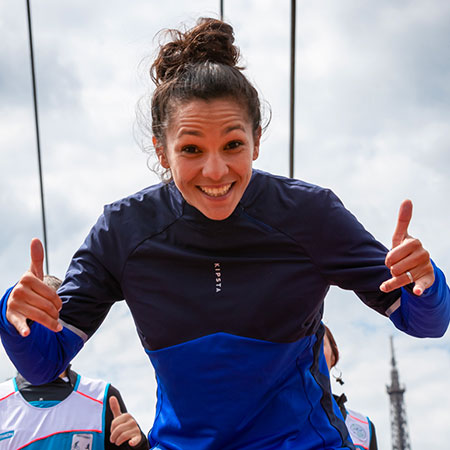 She then worked as department manager at Decathlon Alès for 20 months. "My goal was to join Kipsta to develop women's football products. But there are no free rides in life, which is what I like. You've got to show what you're capable of first." In January 2016, she applied to Kipsta in Lille. Two years later, the brand released its first ever range dedicated to female footballers.
"As soon as she arrived, she just bowled me over with her energy and drive to create a product design and engineering team around her," says Anaïs Mikulaniec, Kipsta's product engineer for football goals. "She's retained all that from her professional career. In football, you need to make quick decisions and take risks."
There's no religion out on the pitch
Jessica Houara-d'Hommeaux, Kipsta ambassador, like Marinette Pichon (France's legendary striker) agrees. "Zohra puts 110% into her role. When I asked her to join the Kipsta team, I found the passionate footballer I'd always known. At Kipsta, we listen to each other's opinions and share experiences. Just like we operate on the pitch."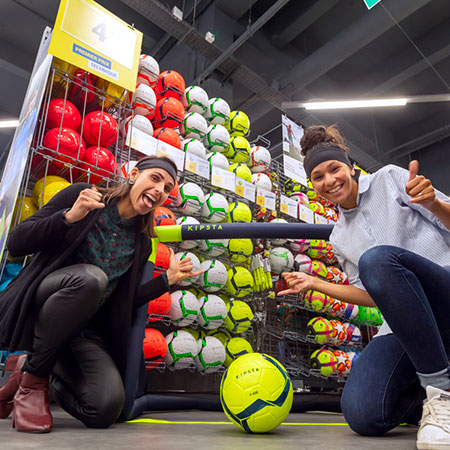 Zohra is all about passion. "I was immediately given everything I needed to develop my ideas for the range. My job is to realise that there are 33 million women footballers worldwide, 2 million of whom are in Europe, and that no one is catering for them.
I just want to give them something that's right for them, but without it being a big battle. That's not part of my vision! I'm no militant or feminist. We might even help some young girls to get into the game, by removing the obstacles for their mothers and widen access to women's football. Sport is incredibly important in terms of female empowerment.
It's all about "I can", "I'm capable of...". There are no barriers. You just have to find another way. On the pitch, there's no religion, no political ideas, no differences. It's a universal language."
A year ago, Kipsta brought out its first women's football collection: a kit and some boots. "We were fast approaching the World Cup, and I wanted Kipsta to be able to offer something for women and girls who would discover this sport when they went back to school. The window was hyper short. It was a case of either: "I'll wait and the products will come out in 2020" or "let's get this done now." To use a football analogy, instead of sticking to a carefully planned attack, we hit them on the break." GOAL!!

Read this text in arabic