On her travels, Maria has worn a lot of club strips living out her passion as a pro and semi-pro in both the first and second divisions over the years. It started with futsal: CD Mar Menor, Jimbee Roldan then Futsal Alcantarilla. Football followed, with stints at Real Murcia and Fundacion Albacete. She successfully defended all of these crests while juggling her sport with a university course. Football player and student – united by their intangible love of football and united by a pair of gloves Maria is a goalie. Defensive when it comes to goals but offensive in her soul. Attacking with a smile that comes from a desire to share…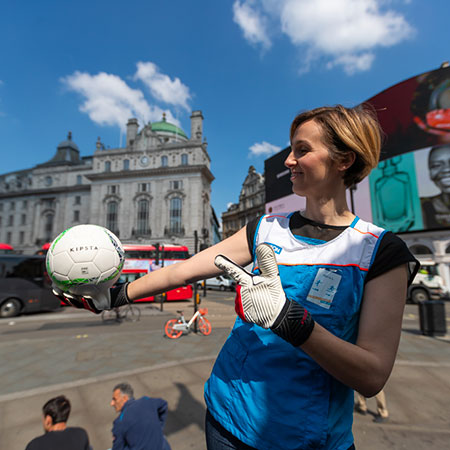 Having worked as a Decathlon teammate in two Spanish stores, San Javier and Albacete, Maria followed her calling, ending up in England. She arrived in London, where she joined the Decathlon store at Surrey Quays - in the team sports department, obviously, where her good humour was permanently in evidence. What's more, whenever she's asked for an adjective to describe herself as a Decathlonian, Maria opens her arms wide as if about to catch a flying ball: "I am a Team Player!" Say no more.
In a store that resembles the first rounds of the Women's Football World Cup, bringing together 15 different nationalities, from Isabella the Brazilian to Anna the Moldavian, not forgetting Valentin the Lyon skier, Maria symbolises the mixity and diversity of the "blue company". At Surrey Quays, this international and multicultural team working in a 10,000m2 sports arena is led by two co-captains, Julien the Frenchman and Mark the Englishman. United Colours Of Decathlon. We speak English here, but value everyone's differences.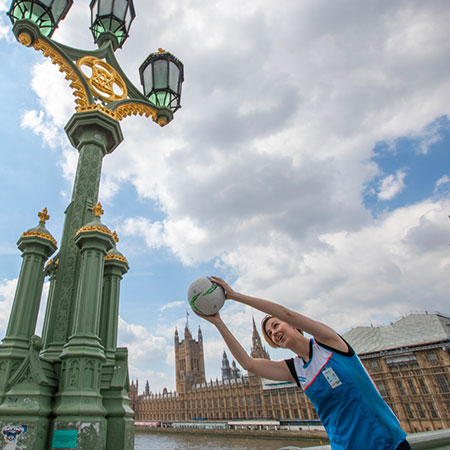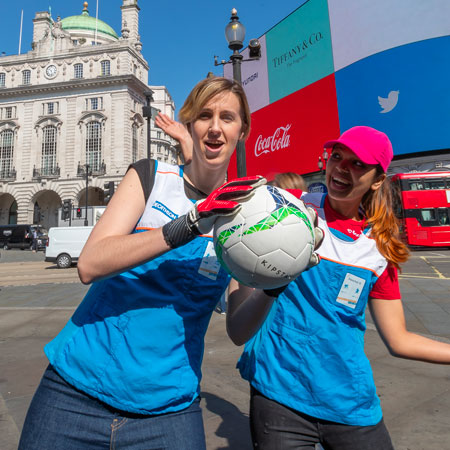 With her strong sense of teamwork, Maria talks about how she moved from the field to the nets: "I was an outfield player when, one day, I had to replace our goalie, who'd been injured in the match." Maria did better than just "stand in". She adopted all the right moves and reflexes. The ball is never far from her hands! She laughs, goes back to her department, where she knows all the Kipsta products like the back of her hand, and offers advice to customers. Maria is already thinking about her next challenge: the opening of an all-new London Decathlon store in Ealing Broadway in July. She is too modest to bring out all the different club strips she's ever worn, but she is proud of her colourful "Decathlon-style" shirts. However, there is one top she likes in particular and that she always wears in her department – which is basically her penalty area. A white bib. With orange edging. And a blue vest…